---
acoustic driven Americana with a fresh twist
---
The Sweet Potatoes were such a part of my creative life for almost 10 years. It started when Kelly Macleod and my husband, Rick, worked together on his film, Slice of Pie. During that process Rick had the idea that Kelly and I should try writing songs together, since we loved so many of the same musicians; Emmylou Harris, Lucinda Williams, Dolly Parton, and Linda Rondstadt.  And he was right! We hit it off right away, writing and co-writing so many songs in the first 6 months. Then we decided to record our new material, and realized we'd have to figure out how to be a band and get a band name.
We've had some other fabulous musicians play with us, but the core of the band was Kelly on guitar and vocals, and me on guitar, ukelele, accordion, vocals and occasionally piano. Later Rick joined the band on bass, harmonica, and vocals. We loved singing tight three part harmonies and playing live shows.  We toured all over the country, met some really good people and had so much fun together.  
But after about 10 years, we decided to move on.  Kelly made a fantastic solo cd titled Wide Open. Check out Kelly's website.  Rick and has lots of different musical, acting, storytelling and improv gigs going on. Here's Rick's website. And we're all still friends.  I'm proud of the music we made together and the friends we made along the way.  You can find all 3 of our cd's in my store. 
I'm so proud of this recording of Take This Burden. Linda Taylor and I wrote
this song after I was inspired by the "O Brother, Where Art Thou" soundtrack. 
Here are The Sweet Potatoes performing it live at a little church in Illinois.
---
"The Sweet Potatoes diversity in grooves and lyric content is such a refreshing sound,
yet very rootsy in the style of The Trio (Linda Rondstadt, Dolly Parton & Emmylou Harris)" 
- Chris Cooke, host of "Acoustic Lounge"
---
Most of the photos on this website, and all the photos for every cd I've made, were taken by the amazingly talented Michaelyn Straub. She shoots great cd covers, promo shots, live events, and also candid, natural family portraits. Check out her work at MichaelynStraubPhotography.com
---
"Laura Hall and Kelly Macleod coo and warble like a couple of harmonizing honky tonk angels"   
- Kevin Burton Smith, Butlers Coffee Music Guy
---
---
"About as down home as you can get" - The Jacksonville-Journal Courier
---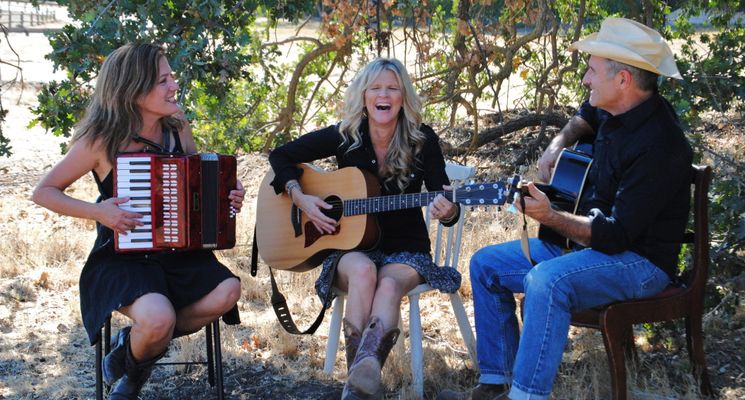 ---
"If the Dixie Chicks jammed with Emmylou Harris, it would sound like them" 
- Dave Harvey, producer of "Dave Harvey Presents"
---
0:00/3:52

0:00/4:00

0:00/3:29

0:00/3:01

0:00/3:03

0:00/3:51

0:00/3:51