---
 Music Improv Workshops with Rick & Laura Hall
---
Have you ever wanted to learn how to improvise songs like we do on Whose Line is it Anyway? Or to create songs within a Harold, Improvised Musical or other long form improv?  Then one of our Music Improv Workshops will be perfect for you. My husband, Rick Hall, (The Second City, Curb Your Enthusiasm, The Factory) and I create a supportive, playful environment where you can grow, explore and move out of your comfort zone. We especially like helping people new to music improv discover it's something they can do joyfully & successfully.
We've taught Music Improv all over the world (see a partial list below).  Our workshops are very hands on, with lots of stage time for each participant. Even if you've never done song improv before, you'll build vocal confidence and learn to listen to each other and the accompaniment. And if you're already experienced with song improv, we'll stretch your skills and help you explore all sorts of fun new ways to integrate music into your improv. Before you know it, you'll be belting out your own great improvised songs!  
Rick and I bring bring a unique combination as two seasoned improvisers with two different skill sets. Rick focuses more on the actor/improviser elements like character work, expressing emotion, staying connected and listening to your scene partners. As a Musical Director I concentrate more on the singing, musicianship, and teaching how to communicate with a musician. And we just love teaching together.
We customize each workshop to the theater or school we're working with. If there are many students, we can do a Beginning and Advanced workshop, or a Short Form and Long Form workshop. Or we can also do an intensive, and cover it all!   Often we perform with a class, or lead a Jam afterward so students can try out their new skills on stage. We love coaching existing teams who want to integrate music into their shows, or to refine their skills if they're already doing music. I teach specialized workshops for Musical Directors, or can coach MDs within the context of a regular workshop. In other words, we can completely customize our workshops for your needs.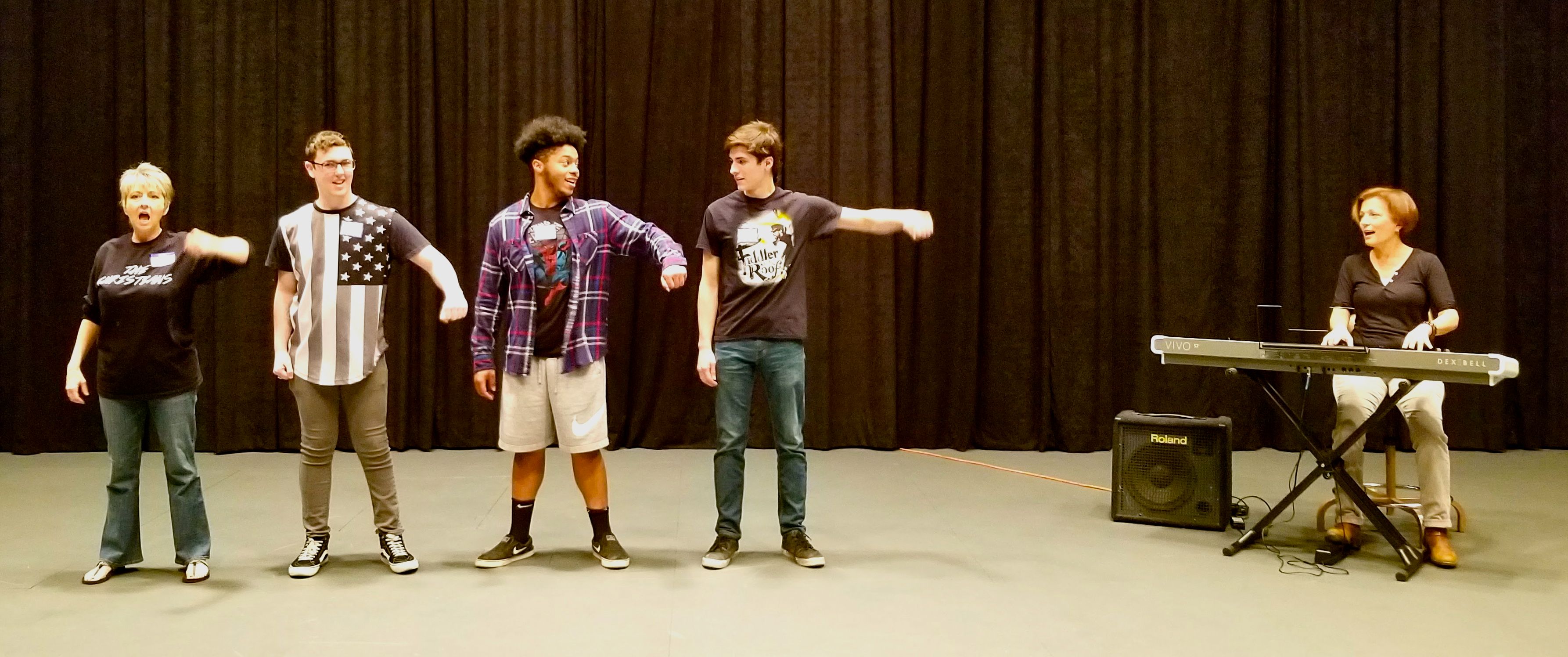 ---
 "Two of the most warm-hearted and encouraging teachers I have studied with.
As a teaching duo they harmonize effortlessly on and off stage"
- Kevin G, Oslo, Norway
---
Here's some of the material we cover:
1. Warming up and why it's important; the care and use of your voice.
2. Building vocal confidence: exploring melody, rhythm, discovering your natural voice, tips for the less experienced singer. 
3. The different roles of a lead singer and support singer.
4. Finding your own way of approaching a musical accompaniment, and your own take on the subject matter.
5. Music improv as a natural extension of scenic work: exploring character, location, emotion etc. to create rich and interesting songs.
6. Ensemble singing: Listening, watching, taking turns, coming to a chorus, intro to harmony singing.
7. Short form games, rhyming exercises and games such as Irish Drinking Song and Hoedown.
If a group is more advanced, we go on to:  
1. Advanced ensemble singing: Counter melodies, call & response, duets, trios and big cast numbers, advanced harmony.
2. Song structure and some musical theory (and why it's important).
3. Movement, including improvised group choreography.
4. Working with different musical styles and genres.
5. Digging deep into location, emotion, and character work to bring your songs to life.
6. Integrating music into longer forms: Musicals, Harolds, Armandos, etc. 
---
"The workshop was fantastic. Rick and Laura make on helluva team!
- Michael Descoteaux, Artistic Director, Improv Boston
---
Rick and I have lead workshops in improv festivals, theaters, colleges and clubs around the world.  Here are just some of the places we've taught:
Annoyance Theater (Chicago, IL)
Arcade Comedy Theater (Pittsburgh, PA)
Baltimore Improv Group (Baltimore, MD)
Boston Comedy Arts Festival (Cambridge, MA)
Brewery Arts Center (Carson City, NV)
Brigham Young University (Rexburg, ID)
Chicago Improv Festival (Chicago, IL)
Columbia College (Tarzana, CA)
Comedy Shrine (Aurora, IL)
Compass Improv Festival (St. Louis, MO)
Cornell College (Mt. Vernon, IA)
Crown Point Community Theater (Crown Point, IN)
Free Range Comedy (Thousand Oaks, CA)
Hardin-Simmons University (Abilene, TX)
Idyllwild Family Camp (Idyllwild, CA)
Impro Neuf (Oslo, Norway)
ImprovBoston (Cambridge, MA)
Improv Broadway (Provo, UT)
Improv Comedy Copenhagen (Copenhagen, Denmark)
Improv Shop (St. Louis, MO)
Lincoln Land Community College (Springfield, IL)
Los Improviachis (Chicago, IL)
Monterey Improv (Monterey, CA)
NEMIX (New England Music Improv Experience)
SAG AFTRA NextGen Series (Los Angeles, CA)
Sacramento Comedy Spot (Sacramento, CA)
SAK Comedy Lab (Orlando, FL)
San Francisco Improv Fest (San Francisco, CA)
San Francisco School of the Arts (San Francisco, CA)
Shut the Front Door (London, ON)
Tahoe Improv Players (South Lake Tahoe, CA)
Texas State University (San Marcos, TX)
The Second City Training Center (Chicago, IL)
The Second City Training Centre (Toronto, ON)
Toastmasters (Culver City, CA)
Unexpected Productions (Seattle, WA)
Unscrewed Theater (Tuscon, AZ)
Un-Scripted Theater Company (San Fransisco, CA)
Willamette University (Salem, WA)
Zoo Improv (Champaign, IL)
---
"What a great teaching team! Within the first two hours we learned how to
advance scenes with song; we built confidence and had fun…lots of it."
- Gerry Orton, director, Monterey Improv
---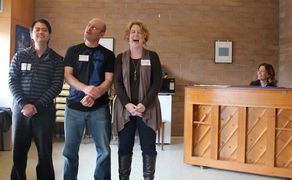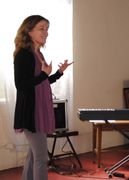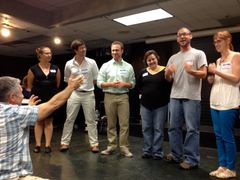 ---
  "I was blown away by how supportive and encouraging you both were. You've made me
feel better about myself as an improviser as a whole, not just musical improv."
- Heather D, Toronto, ON
---
Check out my calendar for upcoming workshops in your area.
  Contact Laura to find out more or schedule a workshop.
---
"I had a fantastic time and learned a bunch at the same time. You and Rick
quickly put  the class at ease and whamm-o we were singing like champs!"
- Andy R, Aurora, IL
---