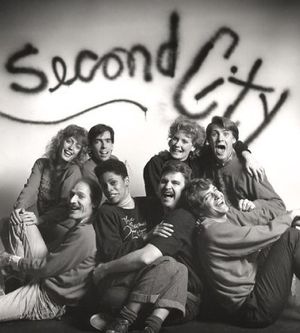 An Improvised Life
I didn't start out intending be an improv musician. I went to college to study music composition and performance.  At the same time I played in cover bands and original projects, did piano bar, played in pit bands for musicals, accompanied dance classes, played for weddings, etc. Little did I know how much all that would help me later doing improv.
During my junior year of college I got hired as a waitress at the famed Second City in Chicago. That's when I fell in love with improv.  A few years later, I was "demoted" to a musician (I made a lot more money as a waitress). I traveled the country in a crowded, stinky van with the national touring company, and met my husband, Rick Hall. (That's me with my cast, in the back row on the left, sporting an unfortunate haircut).
Later I opened a show on the then new Second City e.t.c. stage.  I also played at a lot of other venues in Chicago, including The Annoyance Theatre, Improv Olympic and Improv Institute. 
Later, when Rick and I moved to L.A. I thought I'd take a break from improv. I focused on songwriting, playing in bands, composing musicals and learning to score films. But life has a funny way of surprising you, and in 1998 my friend from our touring company days, Ron West, asked me to audition for Whose Line is it Anyway. Before I knew it, I was doing improv again! We've now done 19 years of Whose Line total, between the Drew Carey and the Aisha Tyler versions.
Rick & I have gone on to teach music improv workshops all around the world. We've had amazing students, and had a great time working with them. We've made lots of friends in the world wide community of improvisers. 
Along with our pal, Luke Hannington, I've also developed Improv Karaoke -  tracks for doing music improv when you don't have a live musician.  Volume One includes a tutorial by Rick & I, plus demo versions improvised by some of our friends, including Keegan-Michael Key, Ron West and Dan Castellaneta.
Working with with improviser, author, teacher and musician, Bob Baker, I've written The Improv Comedy Musician, a book on how to play music with improv groups. I got to put in it everything I've learned from years of playing with so many talented improvisers.
And now, my latest project, an online course to teach musician's how to play with improv groups, A Musician's Guide to Improv Comedy. I draw on all my years of playing for improv, to help musicians who are already playing with an improv group, or are interested in trying it.