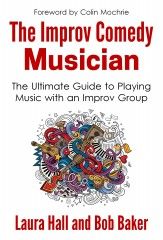 Are you a musician who plays with an improv comedy group, or is interested in trying it? If so, this book is for you! You'll also greatly benefit if you're a director, teacher, or part of an improv group who wants to help a musician learn how to play with you. It's fun even if you're just a hardcore Whose Line fan.
      
This book is an opportunity for me to share knowledge gained from my years of improv experience. You'll learn how I do what I do on Whose Line is it Anyway (plus get some insider stories about the show!) And you'll get tips and pointers on how to play for live improv shows, play in different styles, accompany improvised songs, know how to approach long and short form, improvise musicals, be a valuable team player, and lots more.

"The key to our Whose Line gig is really understanding the role that
music plays in the show, and Laura is the queen of that skill."
- Linda Taylor (Guitarist - Whose Line is it Anyway)
People asked me to write about this subject, because there aren't many resources available. But I didn't know how to begin writing a book.  Then I did a podcast with the talented Bob Baker, and we got to talking afterward.  He's an accomplished author, teacher, musician and improviser, so it was perfect for us to write the book together.
"I loved "The Improv Comedy Musician"! You covered so many important aspects of
music direction in a way that's friendly, accessible and informative. Can't wait to get
all our musicians in the ImprovBoston training program reading the book!"
- Mike Descoteaux (Artistic Director - ImprovBoston)
---
ORDER FROM AMAZON (US & International)
---
"I know and highly respect both Laura & Bob.  I can't think of a better pair to teach you
the fundamentals of musical improv" - Bill Chott (Founder - The Improv Trick)  
From the Foreword by Colin Mochrie:    
"On Whose Line, Laura supplies note-perfect music styles for Wayne Brady, Brad Sherwood, Chip Esten, Jeff Davis, et al, to shine on. But Laura's true genius is that she can make caterwaulers like me sound good and, more important, makes caterwaulers like me feel safe enough to try.
      
Laura Hall is a damn fine musician, period. There is no musical style she isn't well versed in. With Laura you get experience, knowledge, and a teacher you can trust. What more could you ask for? So get reading, start playing, and have more fun than you're ready for."     
When you find yourself working with a tremendous musician who likes to laugh and
is an expert in comedy, improvisation, and teamwork, her name is Laura Hall."
- Ron West (Director - The Second City)